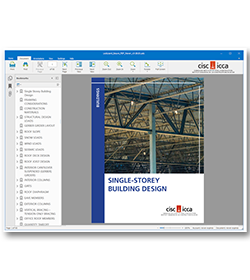 Digital 5 Year Subscription License - Single Storey Building Design, 1st edition
Regular price
$60.45
$0.00
Unit price
per
Single Storey Building Design - Digital version
Five Year Digital Bundle Subscription License
Please note, this product is not possible to cancel and is not refundable. Refer to our store's refund policy.
A Windows 10, or higher, digital bundle of the Single Storey Building Design publication.
Note, the digital versions are Windows 10+ based, read only (no printing) and use DRM licensing and viewing software included in the purchase. Local Administrator computer access is required for installing this product. This product does not run on a server and is non-transferrable to more than one computer or to others. The file is not viewable on a MAC or smartphones.
Includes digital versions of:

Digital subscription of Single Storey Building Design

Single-Storey Building Design reviews the major design parameters and techniques for producing a functional and efficient design of a storage/light industrial building enclosure using structural steel and steel roof deck. The model selected includes a one-storey office building section, a common appendage to a storage/light industrial building, thereby introducing considerations such as a fire separation between the two occupancies. The structure is designed in accordance with the National Building Code of Canada (2015) and CSA S16-14.
Publisher: Canadian Institute of Steel Construction
ISBN 978-0-88811-242-2
134 pages
Digital DRM Subscription read only limited license version (refer to Terms and Conditions for more information).
---