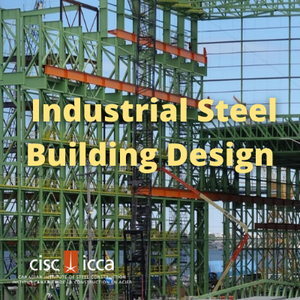 Industrial Steel Building Design - Session 4 (course)
Regular price
$217.71
$0.00
Unit price
per
Session 4 - 0.15 CEU
Duration: 1 h 26 min
This is the fourth session of a four-part webinar.
This session offers insight into the design of Stepped Columns, culminating with a detail design example. Aspects relating to the effects of Temperature and Toughness on structural steel, factors affecting Connection Design and an overview of Boiler Supports concludes the course material.
In this session, the following will be presented:
Stepped Columns
Temperature and Toughness
Connections
Boiler Supports
Eligibility for CEUs
CEUs will be issued for this webinar to participants that meet the following criteria:
Participant must attend at least 75% of the webinar
CEUs are only eligible for a participant with a 90% attention rating. In order to maximize your rating the webinar must be full screen. Working on other things while the webinar is running (i.e. not full attention) minimizes your attention rating. The webinar platform automatically tracks your rating.
CEUs are issued to the registered contact person only (person with assigned seat)
Notes
Upon your purchase, you will receive an email to register course participant seat(s). Assignment of your seat is necessary for course registration, a necessary step, even if you have purchased only one. Please check your junk folder if not in your inbox. An email for course material downloads (if applicable), will be provided after checkout. Courses are non-refundable. Rescheduling may be possible (conditions apply) up to 3 business days prior to the start of the course.
This course includes pdf handouts.
Recommended publications for the course:
Industrial Steel Structures, 2nd Edition
https://steelstore.cisc-icca.ca/collections/cisc-publications-for-nbcc-2020-series-codes/products/industrial-steel-strucutres-2nd-edition
Crane-Supporting Steel Structures: Design Guide, 4th edition
https://steelstore.cisc-icca.ca/collections/cisc-publications-for-nbcc-2020-series-codes/products/crane-supporting-steel-structures-4th-edition 
The AISC publication referenced in this webinar can be found at the following:
https://www.aisc.org/products/publication/design-guide/design-guide-07-industrial-building-design-third-edition
---